RPS named Company of the Year 2018 by Industrial Process News
Manufacturers are always searching for ways to streamline processes, reduce costs and improve production. The expensive tooling costs and long lead times of traditional manufacturing are becoming a greater concern among designers and manufacturers, and they are turning to 3D printing to overcome these challenges. No one knows the industrial 3D printing industry better than RPS. The company has been rightly awarded Industrial Process News'
Company of the Year 2018.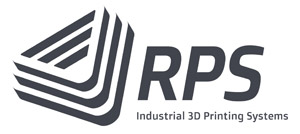 3D printing, also known as additive manufacturing, has advanced over the last 30 years. The additive layering technique of 3D printing is proving popular in manufacturing as it is not only faster to produce functional end-user parts, but is far less expensive.
Advances in 3D printing are changing the face of manufacturing
Industrial 3D printers no longer produce brittle, unusable parts – they are now capable of printing parts with exceptional mechanical properties, with some systems even offering fully dense parts with isotropic properties. This has been the long-awaited step change the industry needed. Industrial 3D printers now print with materials such as Nylon 12 and Nylon 11. Base mechanical properties can also be improved with addition of fillers such as carbon fibre, mineral fillers, glass and even hollow glass spheres, falling in line with commercially available injection moulding materials.
RPS Director, David Storey, has been in the industry for over 20 years and is excited about the recent developments in 3D printing innovation, in the automotive and aerospace sectors in particular. David says, "Daimler are printing spare parts. Boeing are using parts in military and commercial aeroplanes, and Mini allow you to design and customise parts for your own car in the showroom. With the advances in 3D printing, it is now realistic to use the technology for low volume complex parts where time to market is of the essence, and tooling is prohibitively expensive."
RPS fully embraces the benefits of 3D printing technology, designing and printing complex parts on site for its own stereolithography system. David added, "10% of the assembled parts utilised within the NEO800 have been 3D printed using our own printer systems. The NEO800 is a world class stereolithography system designed, built and manufactured by RPS engineers."
RPS, based in Aylesbury, is one of only two companies that manufactures 3D printers in the UK. Operating over the last 10 years with individuals in the team having up to 23 years' industry experience, RPS has a range of expertise and skills unlike any other in the industry, setting it apart from other industrial 3D printing companies in the UK.
David added, "We knew what people wanted and saw a gap in the market for a truly brilliant 3D printer. Our goal was to build the best quality parts in a large industrial platform with an open system that could facilitate the step change in the development of new functional polymers."
With a large 800 x 800 x 600mm manufacturing platform and an open material system compatible with all 355nm polymers, the NEO800 allows freedom of material selection for customised solutions. It also boasts a scanning resolution to within 1 micron that significantly reduces finishing time by up to 50%. "Quality, speed, accuracy, and an open polymer system were our objectives when developing the NEO800," said David.
"What makes the NEO800 unique to other stereolithography systems is an open platform, offering businesses the opportunity to develop new polymers and encourage innovation." David explains, "Our hope is that people will take advantage of this and utilise nano-based technology to enhance mechanical properties for end-user functional parts." RPS is also looking to expand the NEO model range. "We are looking at developing further models specific to particular industries to encourage further innovation."
High praise for the NEO800 in European businesses
The NEO800 has been placed in organisations across Europe and has received high praise in the industry. Material providers and businesses who have seen the results have claimed the NEO800 as best in class due to its accurate, high-quality parts and cost-saving benefits.
Paragon Rapid Technologies, based in Darlington, UK, uses two NEO800 for rapid prototyping processes to provide both prototype and low volume production solutions to customers.
Phill Adamson, Director of Paragon Rapid Technologies has seen first-hand the benefits that the NEO800 brings regarding production purposes and business savings. Phill explains, "The NEO800 has a commercial edge over others in the industry. It is refreshing that it is UK designed, built and engineered. The benefits of the NEO800 is what it can give regarding the build size and speed to produce, plus the service support that RPS offers. The NEO800 is labour saving and condenses lead times. We are also seeing a 40% saving in labour efficiency when finishing and painting parts built on the machine."
Demonstration facility
With a thorough understanding of the technologies behind the hardware, software and material solutions they offer, the team at RPS care about recommending the right technology for the right application.
Ensuring the technology is fit for purpose, RPS encourages businesses to visit the RPS Demo Facility, which showcases the NEO800, HP Jet Fusion 4200 and the Markforged range. Here, customers have the opportunity to see and use the technology first hand, understand the end to end printing process and to build their own parts. "Purchasing an industrial 3D printer is a major investment and we are committed to demonstrating the technology in a hands-on way to de-risk the process of buying a system as much as possible," says David. "Customers will go away fully understanding the process from CAD to part production. We know if customers are looking to invest in buying expensive equipment, they need to be reassured and fully informed about the entire process."
There is no denying the main RPS success story is the NEO800 – developed, designed and built in the UK by the highly skilled team at RPS with a can-do attitude. With 3D printed cars and houses now a reality, 3D printing is here to stay. The positive impact that 3D printing has already made, and the further advancement of systems technology and materials means the future is bright – and RPS will continue to play a major part in this technology.
T +44 (0)1296 425665
enquiries@rps.ltd
www.rps.ltd