Following successful trials and Hand Arm Vibration tests using Cengar's premium bi-Metal saw blades, Master Abrasives has been appointed as a distributor for Cengar's range of high quality saws and accessories from 1st August.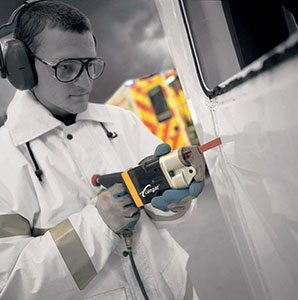 These fit well into Master Tool Services' package, with products that are well-suited to automotive and industrial applications.
"Cengar saws are designed for professionals in demanding environments where reliability, low weight, easy handling, low noise & low vibration levels are important in protecting the operator & providing a high level of productivity. Cengar has sixty years of experience in cutting applications which added to Master Abrasives' industry knowledge makes a valuable relationship," states Mr Kilpatrick, Managing Director of Cengar.
Andy Wright, National Sales & Business Development Manager, explains, "Master Abrasives continues to develop its tool services offering. The fact that Cengar saws and blades are designed to emit low vibration levels makes them fit particularly well into our tool services range. We provide services such as Hand Arm Vibration (HAV) testing and management systems to help protect operators and businesses from the damaging effects of HAV. Now with Cengar products added to our range of low-vibration tools and accessories, we can provide a complete solution to cutting applications which fits in with our ethical business approach."
Master Abrasives will be providing further information on Cengar products on its tool services website and products will also be available to purchase online at: www.master-webshop.co.uk
T 01327 703813
sales@master-toolservices.co.uk
www.master-toolservices.co.uk