Zinc and aluminium high-pressure die casting specialist RD Castings has used Japanese-built, high-speed, twin-pallet machining centres from Brother since 1989 and currently has nine of. Since the mid-90s, the 30-taper machines have replaced manual milling, drilling and tapping.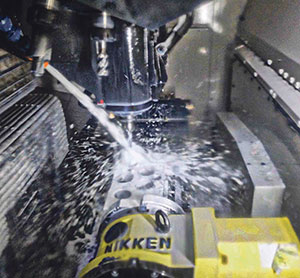 Running the company are siblings Anthony and Michael Pateman, who were interested when Brother's UK agent, Whitehouse Machine Tools, suggested they see a demonstration of the machine manufacturer's new ISO control with 12-inch colour LCD screen, the CNC-C00, a significantly faster and more user-friendly CNC system fitted to its latest machines.
After they visited the agent's Kenilworth showroom and technical centre at the end of 2016, they came away with another Brother machining centre, a Speedio R650X1 with Nikken rotary 4th axis. Numerous facets make the machine particularly applicable to machining light castings, one being its outstanding speed. Workpiece changeover is completed entirely within the 3.4-second rotation of the twin-pallet Quick Table, as the 21-pocket magazine's 0.9 second tool change time, 50 m/min rapids in X Y and Z, and rotation of the 4th CNC axis are carried out simultaneously.
Michael Pateman commented, "The speed of tool change on the R650X1 mirrors that of our Brother 324N and R2A machine models, where the tool carousel encircles and travels with the spindle, which does not have to move away to pick up a new cutter as on the Brother TC32A and 32B machining centres that we also have on-site. It results in very high productivity that is enhanced by faster processing of existing programs in the new CNC-C00 control."
Anthony Pateman pointed out another advantage of the R650X1, namely the generous axis travels of 650 x 400 x 305 mm in X, Y and Z. The table accepts RD Castings' 500 x 350 mm base plates on the trunnion fitted to both machines, allowing multiple components to be fixtured for 2-axis and 3-axis machining, relieving the load on the 324Ns and R2As which are always filled with work.
He added, "There is a trend towards larger castings these days and we have just installed a 500-tonne casting machine to meet the requirement. In order to machine them, the ability of the R650X1 to swing our 400 mm diameter parts in the rotary axis means that we are often able to finish these bigger castings in one hit and save on a second set-up operation."
Simon Hale, CNC machine shop manager, stated that productivity of another part – an aluminium die cast housing for the rail industry – has been nearly doubled using the larger machine.
The increase in output is partly because, by routing coolant at the uprated 30-bar pressure on RD Castings' latest machines through an indexable-insert drill rather than employing a twist drill, it is possible to produce larger holes above 18 mm diameter in one spindle movement, rather than having to spot and then peck drill the holes multiple times.
Michael Pateman states, "By employing ultra-high-speed machining techniques on 30-taper rather than 40-taper machines, with extensive use of polycrystalline diamond inserts clamped in dynamically balanced tool holders, the cost of producing a casting is now about the same in Mildenhall as it is in China – and we are winning back business as a result.
"All of our Brother machines work flat out eight hours a day and their speed, accuracy and reliability are fantastic. Coupled with the high level of support from Whitehouse, it has been an unbeatable package for us."