Here at Industrial Process News we are excited to announce that Breton S.p.a have been awarded with our highly coveted Machine Tools Company of the Month profile, as a result of their non-stop commitment to providing only the very best in specialist manufacturing services.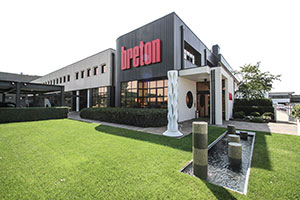 Breton was first established in 1963 by founder and innovator Marcello Toncelli. The family owned business, now in the third generation of Toncelli hands, specialises in conceiving, engineering and providing compound stone plants and machines for the complete processing of both natural and compound stone. In 1990, Breton also branched out and began producing machine tools for metal and composite machining.
The Italian based company, located in Castello di Godego, have further locations for commercial and services activities across USA, China, Germany and Australia. With decades' worth of experience, Breton have garnered a reputation as one of the world's leading suppliers of machinery. Not only that, but they are also known for prioritising customer satisfaction, working closely with the client from the initial stages of machine conception and customisation, all the way through to installation, performance and after-sales support. Bespoke products is where Breton truly excels, and it is their pride and passion to create not only the best machine for their client's particular purpose, but also the most durable, user friendly and cost-effective too.
We spoke to Luca Tagarelli, Operative Marketing Manager of the Machine tool division at Breton, about what the company can provide, to which he explained: "Today, Breton Group is still devoting a significant part of its activities to the stone and ceramic applications but, since the machine tool market is growing every year, we are extremely determined to expand our capabilities in this field. Beside the extensive R&D programs on new hardware and software solutions, we provide more and more complete turnkey and bespoke solutions for each customer. Rather than marketing a fixed standard range, we really concentrate on analysing the individual goals for each customer's investment and, based on this, we manufacture, assemble and deliver our tailored solutions.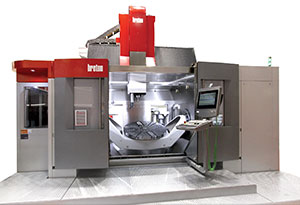 "We can also provide support to make customer's machining processes even more efficient. As the machine tools are becoming strategical assets for multiple industries around the globe, we are dedicated to providing a worldwide service." The main sector Breton operates in is the Aerospace market, although they are also a household name in the Automotive and Mould & Dies sectors.
Breton have a wide range of machinery, spanning everything from machines for stone processing to machines and plants specially designed for engineered stone manufacturing, and even processing ceramics. Among the product lines of the Machine Tools division, one the more spotlighted configuration includes the brand new Ultrix 1200 EVO, particularly designed for Aerospace engine machining. There are a number of benefits to using the Ultrix 1200, including it being more stable, capable of milling, turning and grinding on a single setup, and its high level of accuracy.
Another highly sought after product includes the Matrix 1000 which can be seen far and wide across the Mould & Dies market. One other industry favourite is the SENTINEL, a smartly designed monitoring software that is fully integratable with all of Breton's products and which allows the user to oversee everything going on with the connected machines, ensuring peace of mind that they are properly performing.
Luca added, "Our products integrate a great level of automation and a series of unique features assuring long-lasting precision, minimizing the maintenance requirements. It's not a serial production, even if we can guarantee the same level of reliability, because we base our tailored solutions on standard models only after extensive testing. At Breton, all of the technology that we utilise in our equipment is always at the cutting edge of the industry and the best return-of-investment is guaranteed."
As one of the leading manufacturers in Europe, Breton attend a number of trade shows throughout the year, including JEC in Paris which they recently attended, CCMT in China, and the Farnborough show in the UK, which they will soon be attending.
If you would like to find out more information or get in contact with the team then please don't hesitate to get in contact using the number below, or feel free to check out the website.
T 0039 0423 769 078
www.breton.it