Industrial Process News is extremely proud to present The CleanBoot UK Ltd as its selected Safety & Protection Product Supplier of the Month.


Show your customers you care with the Original CleanBoot – a durable, lightweight and reusable overshoe which protects customers' properties from dirt and damages. Designed as an innovative alternative to plastic over shoes, which fall apart and break after just one use, the CleanBoot is made from neoprene, making it entirely reusable, recyclable and even environmentally friendly.
The company was established back in 2013 by Darren Blanche who has worked in the building industry for many years. Whilst using plastic overshoes in an attempt to keep customer properties clean, Darren grew tired of using so many each day because they would rip or fall apart, and wanted to find a better alternative. He discovered the CleanBoot in Australia, and after seeing how impressed his customers were, wanted to bring the idea to the UK.
"The CleanBoot demonstrates the care and respect workers have for customers properties, therefore generating customer satisfaction as well as referrals for repeat business." commented Darren. "Not only do they keep properties clean, saving both time and clean-up costs, but they also look professional and give your company an edge over competitors.
"While using plastic over shoes, I was going through around 5/6 pairs a day! But The Original CleanBoot lasts up to 6 months and is completely recyclable at the end of its life. As plastic bags have now been banned in so many places, there is a wonder why plastic overshoes would still be given to workers? The Original CleanBoot is the ideal solution, with its patented grip sole that even gives grip for safety and traction on most work surfaces.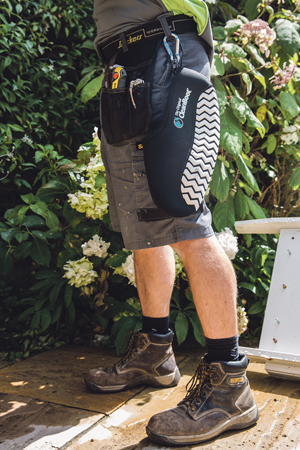 "Simply place over the top of shoes or boots when entering customers' homes and let The Original CleanBoot, "Keep the outside out and the inside clean."
The Original CleanBoot can be used anywhere that needs to be kept clean. It is the ideal solution for tradesmen who enter customer properties either as a single visit or on a regular basis. However, the company are always getting enquiries from unexpected customers. Just recently, NHS care workers have decided to trial the CleanBoot for their remote care workers. As it is a health and safety regulation not to take your shoes off when entering properties, the care workers wanted to find a way to keep to prevent bringing dirt in from their shoes – the CleanBoot was the perfect solution. They are also popular with abseiling window cleaners to prevent their boots from damaging client's glass.
CleanBoot UK Ltd has just released a new size to their range, meaning they now cater for every size. There are 5 different sizes to choose from, XS, S, M, L and XL.
"Our aim is to raise awareness for the CleanBoot and encourage people to use them as an alternative to plastic overshoes," concluded Darren. "My aim is to completely eliminate the plastic overshoe as they are not only useless, but extremely damaging for the environment.
"From our base in Oxfordshire, we distribute our CleanBoot's around the UK and Ireland, but they are also available from distributors worldwide. Get in touch today to find out how the CleanBoot can improve the look of your workers, save you money and even help protect the environment."
T +44 (0)8454 747770
info@thecleanbootuk.com
www.thecleanbootuk.com