The state of the UK robotics industry
Regardless of what pop culture would have us believe, modern day robotics are not the threat to mankind we see depicted in film, television and fiction. Since the introduction of robotic arms to automotive manufacturing in the 1960s, installing robotics and automation has become standard practice in manufacturing. Despite this, the United Kingdom is falling behind in the robotics manufacturing market.
As UK robotics week (24 to 30, June 2017) begins, Chris Johnson, managing director of specialist bearings distributor, SMB Bearings, examines the state of the UK's robotics industry.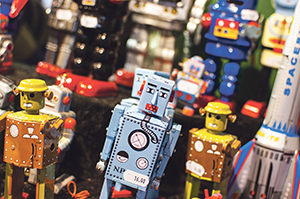 In the race for using automation in manufacturing, Europe is widely regarded as one of the front runners. In fact, 65% of countries with an above-average number of industrial robots per 10,000 employees are in the European Union – with Germany and Sweden topping the list. However, the United Kingdom is lagging slightly behind.
Currently, the country stands marginally above the global average, with 71 robots per 10,000 employees in the manufacturing sector – compared to 300 in Germany and almost 200 per every 10,000 employees in the manufacturing sector in Sweden.
As the ninth-largest manufacturing nation in the world, Britain's manufacturing sector accounts for 11% of GDP and 45% of exports. To remain competitive in the global market, manufacturers should begin to consider making larger investments in industrial robotics. In fact, a study by Barclays in 2015 suggested an increased investment of £1.24billion could raise the overall value of manufacturing to the UK economy to a colossal £60.5billion in less than decade.
There's no doubt that British manufacturers understand the benefits of using robotics in their facilities – just a quick internet search will deliver a plethora of positive data on the increased efficiency, productivity and financial delivered by industrial automation. Britain is investing in robotics in its manufacturing industry. However, the nation is almost entirely absent in the design, development and manufacturing of sought-after robotics technology. Considering the increasing global investment in robotics, why aren't British machine builders competing in this potentially lucrative area of advanced manufacturing and machine building?
There is a notable lack of statistics on the state of robotics manufacturing in the United Kingdom. Despite efforts to encourage an interest in robotics manufacturing in Britain – such as the UK Robotics Week initiative, which was launched in 2016 – there are few sources of information on the country's interest in manufacturing robotic equipment for the industrial market.
Instead, the most popular British narrative on this trend focuses on the alleged threat that robotics and automation brings to employees in the manufacturing industry; rather than the potential financial rewards of manufacturing robotics. The uptake of robotics in the manufacturing industry is inevitable. In fact, according to a forecast by the International Federation of Robotics (IFR), more than 1.4million industrial robotics will be installed in factories by 2019.
Currently, Japanese manufacturer, FANUC is the world's largest builder of industrial robots. The company's 400,000 robotic machines are used around the world to build cars for the likes of Ford and Tesla, as well as the metal iPhone cases for Apple. Alongside FANUC, Japanese robotics manufacturing giants Yaskawa and Kawasaki are responsible for a further 410,000 of the world's robots.
In fact, according to Robotics Business Review's (RBR) list of the 50 largest global robotics companies in 2016, Japan is home to nine of the manufacturers on the list. Japan is so well known for its robotics manufacturing that the report describes the country as the 'kingpin of world robotics'.
Interest in robotics in the United Kingdom is not entirely redundant. As part of the Government's digital strategy, funding of £17.3million worth of research on artificial intelligence and robotics is to be carried out by British universities. Aside from Government interest, business investments in robotics also appear to be increasing. It has been reported that Sir James Dyson will be investing in a $2.5billion research campus for robotics, artificial intelligence and other advanced technology and these same technologies are among the fastest areas for investment according to an analysis of venture capital flows into London's tech sector.
What's more, as part of UK Robotics Week 2017, the UK Robotics and Autonomous Systems (UK-RAS) network is hosting a series of challenges for academics and industry professionals with an interest in robotics. The Surgical Robot Challenge, the Extreme Environments Robot Challenge and the Social Care Robot Challenge will be held during UK Robotics Week this year and will encourage participants to experiment with robotic technology on a small scale. In addition, the School Robot Challenge is a competition to inspire children to design and create their own robot bug.
Britain is undoubtedly slacking in the world of robotics, not just in embracing the technology, but engaging in the race to develop this game-changing automation. Looking to the future, manufacturers, academics and the future generation of Britain's engineers must take steps to begin chipping away at this already dominated market – if not, the country risks being left behind.
About SMB Bearings
SMB Bearings originally specialised in miniature bearings, thin-section bearings and stainless steel bearings. By natural progression, the company expanded the range to include other corrosion resistant bearings such as plastic bearings, 316 stainless bearings and ceramic bearings.
Remaining a specialist business, SMB Bearings provide a high level of product knowledge, providing bearing and lubrication solutions to existing or potential customers, whether individuals or large corporations. SMB Bearings does not just sell bearings, but helps to solve your problems.
Contact: Chris Johnson, Managing Director,
T 01993 842555
chris@smbbearings.com
www.smbbearings.com