Industrial Process News is pleased to present UNISIG as its selected Deep Hole Drilling Machinery Provider of the Year.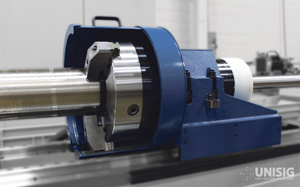 Originally established in 1995, UNISIG was set up by the contract manufacturing service, Entrust Manufacturing, to develop its own advanced product line of quality machinery. It has since experienced significant growth, having created various solutions to facilitate every conceivable industry with a need for deep hole drilling.
The previous year especially has proved to be extremely successful for UNISIG as they have experienced tremendous growth and added new products to their extensive product range.
"We are continuously upgrading our range in order to offer the most up to date technology to our customers," commented Philipp Steimle, Managing Director of the European Sales Department. "This year we have exceeded our targets and enhanced our renowned range. We are delighted to have been named the company of the year as we feel it is a testament to our hard work and dedication to providing customers with superior quality machinery."
"UNISIG machines are designed with purpose for a full range of deep hole drilling applications," continued Philipp. "Our machines and technology are developed based on years of experience with drilling applications, customer challenges and production environments.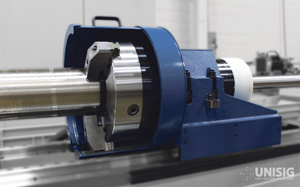 "UNISIG deep hole drilling systems consist of machines, durable tooling and automation (plus the expertise to get the job done right). With the support offered by our mechanical and electrical engineering engineers, precision mechanical assembly, programming and specialized training and support, we can provide turn-key solutions for even the most challenging deep hole drilling tasks."
The robust and fully functional products have been utilised in many sectors, such as the aerospace, energy production, steel processing, hydraulics, automotive and contract manufacturing factions (to mention a few examples). From oilfield equipment to bone screws, every application is unique and brings different challenges and requirements – the UNISIG team acknowledge this and so actively strive to ensure everything is taken into consideration – whether it is the inclusion of super-alloys, surface-finish specifications or the need for high production without sacrificing accuracy.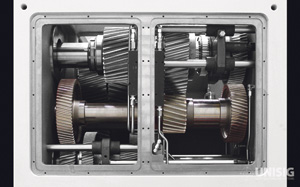 "Our commitment to advancement can be demonstrated with our newest addition to our inventory: with the B850 we have just released a new B-series model deep hole drilling machine (with rack and pinion drive and box guideways to drill up to 320mm diameter). In the mould industry we are very successful with our USC-M series deep hole drilling and milling centres, revolutionizing the mould making process with the most productive machine on the market."
UNISIG has also recently added the new versatile, high-precision UNI-50BTA to its UNI series of deep hole drilling machines. The machine extends production range by enabling operators to rapidly change from BTA to gundrill deep hole drilling tooling. This allows drilling holes with diameters as small as 8 mm (0.31″) and as large as 65mm (2.56″), at depth-to-diameter hole ratios of 100:1 or greater. The UNI-50BTA makes it possible to drill with either tooling method within the diameter range in the same part without secondary operations.
The specialist machinery, tool, automation and accessory experts are highly experienced in providing the correct solutions to meet customers' individual demands, whilst successfully achieving the highest performance standards possible. Its complex competencies extend to the completion of sophisticated projects, such as process development, tooling testing and custom engineering (as well as the worldwide exportation of long-lasting and tolerant systems meticulously made with premium components).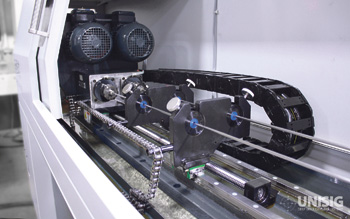 UNISIG machines are engineered and built to withstand the tough environments that are a reality in most production shops. Sensors monitor critical lubrication cycles, operating temperatures and filter condition and will protect the machine from serious damage. Control systems also monitor overload conditions and provide descriptive fault messages to direct maintenance personnel to the problem area immediately.
To ensure products are always performing as expected, the company UNISIG has established an extensive maintenance programme, not only to stop damage to machinery, but to provide an opportunity for the greatest machine uptime and performance.
The company provides preventative maintenance guidelines and service recommendations that can be handled by all customers as well as maintenance services to perform these activities on an as-needed basis or a repeating schedule.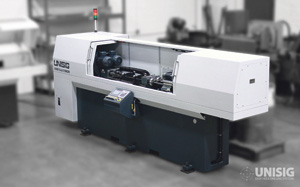 "We value close relationships with our customers and welcome opportunities to discuss how our combination capabilities and services can provide the greatest value," Philipp concluded. "We are committed to continuously improving our business through investment, the use of technology and promoting a highly trained workforce.
UNISIG is headquartered in the US, where it houses its own research and development, engineering and manufacturing departments, but it opened another facility in Germany in 2011 in order to better serve the European markets. The internationally appreciated machines and accessories are regularly exhibited at various trade shows across the world; the UNISIG team frequent events such as IMTS (US), EMO (Italy), AMB (Germany), and MACH (UK).
UNISIG attends many tradeshows throughout the year to showcase their exceptional range. This year they will be appearing at the Mach Exhibition at the NEC, Birmingham in (Hall 5/5684) on the 11-15 April, MMTS at the Montreal Manufacturing Technology Show in Montreal, QC on the 16-18 May, Amerimold at the Suburban Collection Showplace Novi, MI on the 15-16 June and IMTS at McCormick Place, Chicago, IL on the 12-17 September and at the AMB show in Stuttgart, Germany on the 13-17 September.
T +49 (0)7125 9687590
info@unisig.de
www.unisig.de