Welders, and other workers in the manufacturing industry, are suffering from cancer, pneumonia and other lung related illnesses due to lack of protection from poisonous fumes and gases.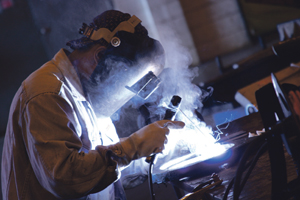 New shocking statistics have been released by the Health & Safety Executive (HSE) who are working on an initiative with BOHS (The Chartered Society for Worker Health Protection) called 'Breathe Freely', to raise awareness of the deadly risks present to workers in the manufacturing industry. Out of the 190,000 workers who carry out welding activities each year, 150 of them die from cancer caused by welding. Other statistics released are equally concerning such as 2,200 annual deaths from cancer caused by past work in manufacturing industries and 4,000 people suffering from breathing and lung problems caused or made worse by their work in manufacturing.
It's alarming that we are still seeing statistics that prove business owners are not doing enough to ensure its workforce is protected from the processes that are undertaken in order to produce the goods they sell. Worryingly, regular news of hefty fines costing businesses hundreds of thousands of pounds doesn't seem to be enough of a deterrent to make companies take the necessary action to protect its people.
In support of the campaign, Impact Technical Services is offering a FREE site assessment to all companies within the manufacturing industry, in which the working environment will be assessed and suggestions made to include or improve local exhaust ventilation (LEV). Our efficient and effective solutions suit a wide range of budgets and scenarios, to ensure that LEV solutions are available to businesses of all sizes and turnover.