For this issue of Industrial Process News, we have selected Freddy Products for our illustrious Vacuum Specialist Company of the Month profile as a result of their outstanding performance within the Coolant and Swarf Vacuum market.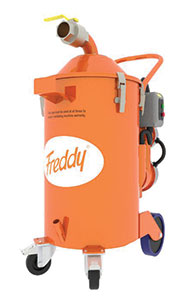 Freddy Products was established by Paul de la Pena back in 1962, located in Worcestershire, where they produce their coolant recycling machines.
Recycling coolant has become increasingly important in recent decades, offering clients the chance to rid their workplace of contaminated metalworking fluids, whether they be synthetic, semi-synthetic or neat oils.
If contaminated, these have the ability to harm machinery, plus cause significant health and safety issues. With a recycling machine, users can take care of disposal with ease. Freddy specialises in producing high quality coolant and swarf recycling vacuums, renowned for their level of efficiency and cost-effectiveness.
With forty years' worth of experience, they have amassed a strong worldwide distributorship, with their products in use all over the world. Freddy have supplied products to everyone from Jaguar Land Rover to BAE, Yamazaki Mazak, JCB and Rolls Royce.
We asked Marketing Manager Lisa Tomkins about how Freddy have set themselves apart, to which she explained, "Our machines are known for their longevity. Many of the original Freddy's sold in the 60's and 70's are still in operation today, and for those that need a little TLC, we offer a refurbishment service. Our warranty is also longer than most of our competitors, as we offer a 2 year warranty as standard and have a UK based service team, as well as a technical team on hand should any help be needed. We also have a wide range of coolant vacuums available, from the 50 litre capacity Micro and Micro Plus, to the specialised 1000 litre Mark V."
The Freddy Micro is one of their most popular products, designed to be compact, and made to the highest specifications. The 50 litre capacity machine is the lowest weighing Freddy whilst boasting excellent versatility, mobility and pricing.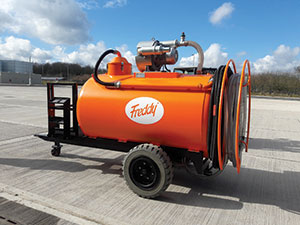 Pushing the envelope of vacuuming capability is the Freddy Mark V, which is among the largest vacuums available, and typically ranges from 310 to 1000 litres.
The Mark V features a tilting filter tank and can vacuum coolant from machine tool sumps, machine beds, drip trays, conveyors and even shops floors.
Freddy also produces tramp oil separators, Hepa and ATEX rated vacuums, centrifuges and even bespoke made vacuums. Lisa added, "Over the past 12 months, we have seen more bespoke builds than ever, including the Freddy Titan, a 3000 litre unit which was developed specifically for a major British automotive company."
Freddy attended the MACH show in April at the NEC, where they impressed both attendees and peers alike with their unrivalled range of specialist vacuuming solutions and ability to take on bespoke engineering tasks, designing custom made machines and taking them all the way from design to completion.
If you would like to find out more about Freddy Products and how their coolant solutions could benefit you, be sure to get in contact below or check out the website for more information.
T 01386 561113
www.freddy-products.co.uk