Industrial Process News is proud to present Applied Materials Technology (AMT) as its Innovations & Industrial Services Company of the Month.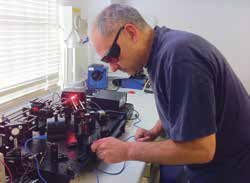 The vision of AMT is to be recognised as a leading developer and commercialisation of novel solutions for disruptive technologies. AMT works with clients in the innovation space to identify un-met needs, evolve existing technologies and enhance technology readiness.
Founded in 1996 by Ian Glass, the Lincoln based company started out as a business offering technical plating services to the power electronics industry. The establishment swiftly evolved from its foundation into a cluster of high tech R&D and service activities in materials science and engineering covering in Technical Electroplating, Electroforming Shell Technology, Laser based photonics Research, Analytical Services, and most recently Vacuum Engineering and Biotechnology.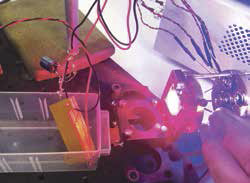 Their main aim is to utilise their expertise in materials and physics to cultivate and commercialise solutions for disruptive technologies. AMT has a proven track record in development and demonstration of new ideas and moving towards market exploitation. This includes testing the practicality of notions suggested by customers, or initiatives raised by the company itself. This competency adds value for clients as it offers further opportunities for development and innovation. AMT has a strong engagement with InnovateUK and is often a prime-mover in initiating collaborations which need grant funding to progress.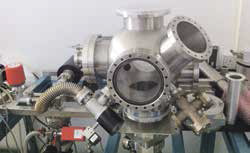 Dr Robin Young, Business Development Director at AMT, commented, "We are extremely proud of our track record in initiating and participating in collaborative projects – we see ourselves going forward with emerging opportunities to generate more value to the UK from those initiatives."
Company culture is driven by its values centred on real world science and engineering awareness:
To ensure that our clients' investment coupled with third party funding leads to value generation.
We will not pass on other people's ideas as our own.
We will commit to a tenacious pursuit of successful outcome.
We are committed to reducing emissions and waste that are significantly below legislative requirements.
We prioritise quality to realise customer value.
AMT has recently created a subsidiary for vacuum pump service and engineering in the form of Cryovac Engineering Ltd (CVE). This is the first of series of subsidiary companies which lead to new value generation. This activity draws on the competences at AMT with the cross fertilization of ideas which leading to new opportunities for energy saving and improved reliability in industrial vacuum systems. Services available include System Design, Leak Detection, Training, Health and Safety Compliance, On-Site Services and Measurement Equipment. This is the first of series of subsidiary companies which lead to new value generation.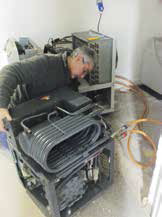 Recently the company has set up a biotechnology laboratory for development and biosynthesis of high value secondary plant compounds which takes it into entirely new fields of opportunity. The linkage with the main business is through the analytical platform operated by AMT. This includes high end chromatography, and state of the art-mass spectrometry for forensic level isotope resolution. Techniques not available in-house are covered by arrangements with university departments.
Other services include thermal shock testing, and fibre alignment and microlensing. The photonics platform has positioned AMT to initiate a keystone project ('Babylight') on healthcare which will lead to therapy of babies with neonatal jaundice at home instead on in hospital units.
Likewise, the platform of its expertise in electroplating has lead to the collaborative project 'SHIPSHAPE' which results in more efficient processing of advanced metallic materials by producing shaped metal shells for powder metallurgy processing. The combination of shell manufacture, hot isostatic pressing and analytical capabilities in house positions AMT for supply into some high end applications.
These two projects form the focus of its exploitation efforts but there are many new projects in the pipeline. As a small business we have the unusual problem of managing a cluster of opportunities any of which could be disruptive. When discussing future plans, Robin said, "We are receiving support from the Growth Accelerator, the national programme which specialises in helping high growth potential businesses to reach their full potential. This is exactly what we need."
T 01522 500050
info@appmat.co.uk
www.appmat.co.uk