Avantes, the innovating leader in the development and application of fibre optic spectrometers, recently launched its EVO series optical spectrometer at the biennial Laser World of Photonics show which took place from 22-25 June 2015.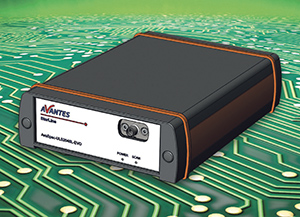 This Evolutionary spectrometer received great interest and will extend the range and scope of applications that can be addressed by spectrometers.
The advantages of the EVO series include:
Inbuilt Gigabit Ethernet connectivity for remote operation from a host controller
USB3 for 10x faster data transfer
50x more memory to record up to 50k spectra in store-to-ram mode
Faster processor.
Operating for over twenty years, Avantes has a wealth of experience in delivering customer focussed spectrometer configurations for Industrial, OEM & Academic applications. It has a range of optical benches & detectors for the UV, Visual & NIR ranges which are used for applications in the Scientific, Horticulture/Agricultural, Food testing, Medical, & Lighting markets. Measurement types include: Chemometrics, Irradiance & Colour, Fluorescence, Raman, LIBS, Thin Film thickness & Plasma. This modern instrument demonstrates how Avantes are going above and beyond in regards to the provision of evolutionary spectrometers.