Industrial Process News is proud to announce that the Brown McFarlane Group has been selected as its highly regarded Steel Solutions Company of the Year.

Having celebrated its 125th anniversary last year, Brown McFarlane has come a long way since its establishment by Albert Richard Brown and his son Edward back in 1889. Outstanding growth has seen the business progress from its foundation in Glasgow to develop a worldwide presence, complete with facilities and offices situated across the UK, Belgium and Brazil.
In order to effectively counter the decline in shipbuilding and manufacturing which
had begun to take its toll in Glasgow, Brown McFarlane diversified further with added value services (such as profile cutting) in the 1980s. Additional developments came in the form of its first state-of-the-art plasma machine, which was installed in 2009, and then the ongoing revamp of its UK facility (situated in Stoke-on-Trent) the year after.
The notable brand processes and distributes high quality carbon, alloy, stainless, duplex and super duplex steel plates in various dimensions and thicknesses, boasting one of the most widespread stock ranges available internationally. Focusing on highly specified products has enabled the company to become one of the world's leading specialist steel plate distributors and traders. This highly reputable status, along with its expert team of experienced sales engineers and procurement specialists, ensures that Brown McFarlane remains unparalleled in its core market sectors: offshore, oil and gas, energy, mining and quarrying and general engineering.
Remaining completely committed to the provision of high quality products led to the ISO 9001 accredited company becoming one of the first steel stockholders in Europe to gain the prestigious ISO 14001 Environmental Management accreditation. Recently an extended range of HIC products, Super Abrasive and Enhanced property high yield plate for offshore industries has been added to its already extensive inventory of high quality carbon, stainless, duplex and super duplex standard and wide area plate steels to service a wide range of industries across the globe.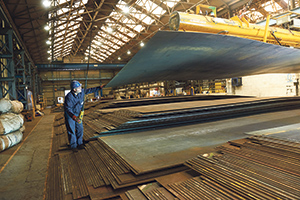 "With our accreditations and certifications (as well as our ability to supply diverse components), there is no aspect of on and offshore heavy engineering components that we are unfamiliar with," said Tim Wheatcroft, Project Manager at Brown McFarlane. "As part of our profiling services we often reduce the welding and design requirements of multiple parts as we can make weird and wonderful shapes through our high quality precision cutting using truehole and contour cutting technologies. For example, for one of our customers we took on what was a 35 hour drilling job and were able to complete the job to the highest finished quality in just hour and-a-half using our state of the art cutting technologies; overnight we boosted their production capacity by 17%, just by contracting this time-consuming job to us."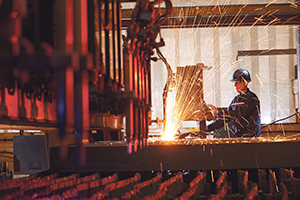 In regards to achievements, Brown McFarlane's 125th year in the trade isn't the only milestone that has caused ripples in current times. The structure of the business has recently changed, as Kenneth Brown, its 4th generation family member, has taken the decision to retire after celebrating 50 years of service in the industry. Kenneth's sons Peter and Richard now hold full responsibility for the running of the enterprise, after Chairman Richard Brown presented the dedicated professional with a small memento upon his retirement.
When discussing future plans, Tim said that the company will be further developing new super wear plate products incorporating small inclusions of Niobium, Vanadium or Tungsten, and is further expanding its heavy plate range. He concluded: "We are geared for further growth in product ranges, particularly stainless steels as we work with our customers to further develop stocks of wide area stainless steels at increasing thicknesses as well as our world-leading HIC products.
"Our investments in profiling equipment at our Stoke site exceed £3 million this year, with the addition of Infinity Plasma Profiling using a skew head on a 24m x 4.8m cutting bed. This technology will give our customers further design and fabrication options as a matter of routine. Plans are also in hand for a further £1 million investment in equipment later in the year to ensure our supply promise of any component anywhere in the world within nine days remains a reality whilst we plan how to enhance our unbeatable service offering even further.
"Extensions to product ranges will continue and were always talking to the best European steel mills about enhancements that can be made to product ranges for high specification uses. Immediately, the launch and development of Infinity Plasma cutting is very exciting as it offers variable angles within a single cut which means many design limitations our customers face in joining complicated profiles will disappear.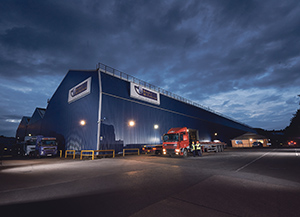 "Ultimately, value added services will continue to be a key part of our strategy moving forward and we will upkeep investments in developing our profiling and finishing services for a more demanding customer base. Although the last 12 months have been increasingly difficult for the whole industry with the cutbacks in the UK oil industry, we are seeing a steady improvement in the Asian and Middle East markets. Conclusively, we are delighted to have been selected for this award and we are incredibly excited about the new challenges we're helping many of your readership overcome."
T +44 (0)1782 289909
IPN@brownmac.com
www.brownmac.com