Industry 4.0 connectivity was a focus of the Kelch UK team at MACH 2018 with actual measured values from the precision camera presetters on their stand being quickly and automatically transmitted to the tool lists on simulated Siemens 840D and Heidenhain TNC640 controls.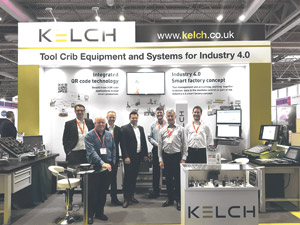 Kelch have developed data flow applications with the presetter positioned at the centre of the process. The automatic transferral of part scheduling from MRP to the presetter enables the tool build data, component storage locations and automatic tool measuring programs to be collected from the TDM system. This information is then used by the setter to locate the parts to build the tools and download automatic programs to measure them. Actual values are then sent directly to the machine control via DNC, the network, RFID chips or QR Coded labels.
Getting accurately and correctly set tool data to the machines drastically reduces scrap, and improves productivity through cutting out human errors and increasing machine up-time. Data input errors are eliminated with immediate effect.
The Kelch UK team of experienced specialists can deliver these cost-effective solutions to streamline your production processes and help take the headache out of improving your business.
T +44 (0)1604 583800
info@kelch.co.uk
www.kelch.co.uk