Recent market projections from Norvento, manufacturer of the industry-leading nED100 100kW wind turbine, show that distributed wind energy is a financially sound option to hedge against future volatility in commercial energy prices.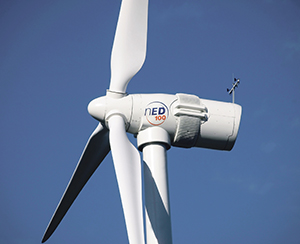 Norvento's projections suggest that electricity prices will rise by as much as 40% by 2025, while the 'levelised' cost of energy – that is the lifetime unit cost of energy – of on-site distributed wind energy production will fall at least 20% in the same period. Currently, the cost of electricity from a nED100 wind turbine in a windy location is already below the retail electricity price. Such gap over the next decade will widen as electricity prices continue to rise.
Installing a nED100 wind turbine will give high electricity consumers, especially those who can maximise the consumption of energy generated by the turbine, an opportunity to significantly reduce their long-term energy costs and more importantly hedge against rising electricity prices.
Ivo Arnús, Director of UK Business Development, Norvento, said, "We are currently installing two wind turbines in a commercial port in the South of England which could reduce the port's electricity bill in £19,000 in year one, only. Multiply that for at least 20 years' life expectancy of the project and the savings to be made are quite considerable."
T +44 (0)117 205 0051
commercial-uk@norvento.com
www.norvento.com/uk