Industrial Process News is extremely proud to present AP Technology as its selected Interconnection Technology Solutions Company of the Year.
AP Technology is a specialist distributor of interconnect products including connectors, cable and cable management accessories. From its in-house facility, which is accredited to IPC-A-620, the company also provides cable assemblies and harnesses to industry or customer specification.
Supplying an extensive range of materials from a broad variety of specialist vendors and shipping to manufacturers, sub-contractors, installers & resellers worldwide, enables AP Technology to deliver an end to end solution for all your interconnect needs.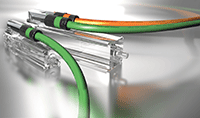 Upon receiving the prestigious Company of the Year Award, Stephen Bidwell, Founder of AP Technology, commented, "The last twelve months have been very exciting but also frustrating. Exciting, because new products have opened new markets and allowed us to expand in those where we already have a presence, with some exciting and high profile projects. It has been frustrating as we have recognised the need to make changes in order to cope with growth and these cannot always be made as quickly as you would wish!
"We set ourselves an aggressive sales target with growth of 30% which we have exceeded. Our team has also doubled in numbers in that last 2 years. Most recently, our production manager has completed an IPC/WHMA-A-620 Certified Trainer course which now allows us to develop in-house, the skills of our cable assembly production team. A review of our processes midway through last year has shown that we have a robust framework in place to deal with the current and expected growth.
"This award is recognition of all the hard work put in by our team during the past year and before and a fantastic motivator for the year going forward."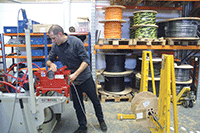 Established in 2001, AP Technology provides customised support for every application. Stephen explained, "We are interconnection specialists providing outstanding customer service and value for money. We have assembled a range of products from a select group of world class manufacturers whose high functionality, high quality and reliability give us the best opportunity to achieve our aim of offering the best technical and cost effective solutions for our customers.
"Our principal differentiator is our service, in addition to our range of standard products we offer a variety of customised products and supply chain solutions to meet your individual requirements."
AP technology works very closely with OEMs from a broad range of industries including machine builders, process manufacturing, automation, motion engineering and renewables. They supply solutions such as in house cable assembly manufacturing, scheduled & call off orders, a cable cutting service and custom labels & packaging with no minimum order value on stocked products and global shipping.
The core product for the business remains the Intercontec range of circular connectors for power and signal applications. Originally designed for use in factory automation and drive system applications, their range has continually evolved and continues to be developed to deliver solutions to a range of industries including food, packaging, printing, robotics, entertainment and renewable energy.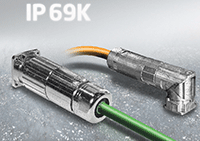 Recently introduced to AP Technology range is the Hygienic multipole connectors designed for use within the food and beverage industries. The housings are constructed of materials resistant to detergents and disinfectants used within the food and beverage processing environment. Their design facilitates the cleaning of surfaces that could potentially come into contact with food; their high IP ratings allow jet washing without threat of water ingress.
Another exciting new product is Alinduflex cable – a stranded aluminium cable with high grade outer jacket which performs to an equal or greater standard as traditional copper cable such as H07RN-F. AP Technology was commissioned to supply cable assemblies using the Alinduflex cable for an innovative new global motor racing formula which required a high current capacity. The Alinduflex solution gave the client a system which met all their technical requirements and with a weight saving of 60%.
When asked about the company's plans for the future, Stephen concluded, "Short term, our plan is to expand our cable assembly production facility through investment in automated cable processing equipment. Long term, we see new opportunities with many of the innovative new products currently being developed by our supply partners to expand further into new markets and applications."
T 0844 344 0829
International +44 844 344 0829
connect@aptechnology.biz
www.aptechnology.biz