Lakeland Industries is one of the largest manufacturers of industrial protective clothing in the world. With a head office in New York, manufacturing in several global locations and sales divisions in every region the company is increasingly recognised globally as a leading player in the business of protecting workers against the everyday hazards of chemicals, flames and heat – hazards found in industry from Sydney to San Francisco and Madrid to Moscow.
Lakeland Europe, based in Newport near Hull, the UK's City of Culture for 2017, is Lakelands sales and Distribution Company covering the European market. Established in 2002 as Lakeland's first sales operation outside North America, the company quickly gained a firm footing in the European market and in ten short years has grown to be one of Europe's leading recognised suppliers of high quality yet competitive protective workwear. As the European business grows into its second decade innovation is recognised as critical in continuing penetration into a crowded marketplace.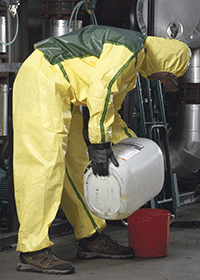 "Innovation in new product is not always about re-inventing the wheel," commented Europe Managing Director, Martin Lill. "Sometimes just a little application of 'sideways thinking' on existing products can bring major dividends. Our Cool Suit range has been a classic example. Innovative thinking to take the standard breathable-back garment to its logical conclusion, then adding striking colour schemes to get it noticed has led to great interest and contributed to our continued driving sales."
The increasing recognition of the importance of new product development has resulted in the creation of a new position for the company. Roy Wilders joined Lakeland less than a year ago as UK Sales Manager, but jumped at the opportunity to take up the new roll of Product Development and CE Manager.
"When the MD offered me the job I snapped his hand off!" laughed Roy. "It's a huge opportunity not only to affect the future of the industry and Lakeland's operation in Europe, but to affect it on a global basis. Having said that, when we started prioritising all the possible development projects, I thought 'What the hell have I taken on..?' I already have more grey hairs than I had three months ago… and I haven't even started the new job officially yet!"
One of many forthcoming developments is Permasure – Lakeland's new on-line Toxicity Modeller for users of the company's ChemMAX 3 chemical protective suit.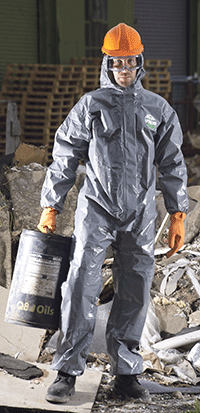 "This is a quantum leap forward for users of chemical suits," explained Martin Lill. "For the first time it enables users to calculate 'safe-use' time for over 1,500 chemicals, whilst taking into account critical factors such as temperature – which many users do not realise can dramatically affect permeation rates. Moreover, Permasure is based on the toxicity thresholds of individual chemicals – not randomly selected permeation rate which actually has little relevance to what causes harm."
Pemasurt works on any portable device such as smartphones and tablets – so can be used instantly, on site, by the actual user – perhaps before responding to an incident or undertaking a maintenance task.
"Not many new products truly have the potential to revolutionise an industry… but Permasure can justifiably make that claim," said Martin. "Trials so far suggest that once users understand it, then it's just a matter of when – not if – they can have it… and that's the power of good product development…"
Currently Lakeland's Permasure is being promoted in Benelux hand-in-hand with their key distributor Vandeputte, but should be rolled out to the rest of Europe over the coming months and next year.
Permasure is just one of the innovations planned by Lakeland; one of many which new Product Development Manager, Roy Wilders, is determined to realise.
"It's a big and exciting job," he commented, "and shows the company's commitment to innovation that enhances user's experience of Lakeland protective clothing – helping to improve protection and safeguard the health of workers worldwide."
T 01430 478140
sales-europe@lakeland.com
www.lakeland.com/europe