Power and Control Systems Specialist, The Automated Technology Group, welcomed the Local MP to cut the ribbon on its brand-new site in Stafford on 29 May. The strategically located facility has been opened to provide the base for the launch of the group's service division.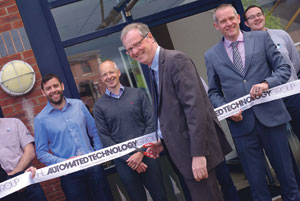 Mark Grant, Service Business Manager and Director of The Automated Technology Group invited recently re-elected Conservative MP for Stafford, Jeremy Lefroy, to perform the official opening of the new premises at Staffordshire Technology Park. Jeremy Lefroy welcomed the group's investment in Stafford and the new jobs created by the launch of the company's service operation. The MP then joined The Automated Technology Group's staff and members of the press for lunch to celebrate this important milestone.
The new site at Staffordshire Technology Park is strategically located to support The Automated Technology Group's power and controls clients, being situated just four miles from junction 14 of the M6 and also close to the M1. The office area includes a meeting room with video conferencing technology to facilitate communication with the group's other main sites in Silsoe and Kings Norton, as well as with customers. In addition, the site's IT infrastructure allows remote dial-in to clients' control systems.
T +44 (0)1582 400690
www.atg.gb.com