Industrial Process News is extremely pleased to announce that Accurate Laser Cutting Ltd have been specially selected to receive this issue's this issue's coveted Laser Cutting Company of the Month.



Founded in 2005, by Directors Jon Till and Steve Morgan, Accurate Laser Cutting Ltd specialises in laser cutting and metal forming. Accurate Laser Cutting Ltd cut and folds all kinds of metal from brass, copper to mild steel and aluminium; so in essence, they are able to offer laser cutting (cutting metal) services and press braking (metal bending) services. Offering their customers unparalleled levels of accuracy, precision and speed is at the heart of Accurate Laser Cutting's priorities. They pride themselves on leading the way with their unrivalled lead times, fast turnaround service and ability to deliver incredible customer care. With production facilities located in the West Midlands and South Yorkshire, Accurate Laser Cutting is ideally placed to service the whole of mainland UK's manufacturing industry with our 24/7 laser cutting and press brake capacity. The company has invested £5 million pounds in specialist laser cutting and folding equipment since the company was first formed.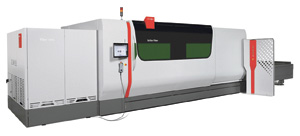 We asked Jon Till the Director at Accurate Laser Cutting what differentiated the company against other laser cutting companies, to which he explained, "The quality of our work is very accurate and high. We have rapid lead times, sometimes as little as 1-2 day turnaround. We offer free U.K delivery services as well as a collection service. Additionally, we have an in-house CAD/CAM software, operated by our team of experts can reverse engineer sketches into high-quality components."
One of Accurate Laser Cutting's most highly sought after services is their new 10kW Fiber laser cutting machine. Not only does this machine enable the team at Accurate Laser Cutting Ltd to give them the ability to deliver unbeatable lead times but it also allows them to offer an improved thickness range (Able to laser cut) including 30mm Aluminium, 30mm stainless steel, 25mm mild steel, 15mm Brass & 12mm Copper. This was the first device of its name and functioning to be launched in the UK in November 2016.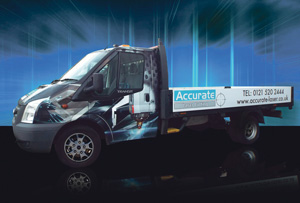 Due to their popular and in-demand services, over the past year, Accurate Laser Cutting launched a new website in order to meet customer expectations. Additionally, the company have also launched a new delivery fleet in November 2017. The website consists of up to date features such as a mobile-friendly service, a quick quote contact form, allowing customers to attach CAD drawings in many different formats. The new website also has an FAQ's page, overall making it is easier to use and is more visually engaging.
Committed to providing an outstanding service to clients, Accurate Laser Cutting Ltd go to great lengths to ensure that no matter the application, each client is getting the most out of their laser cutting projects. If you would like to get in contact with Accurate Laser Cutting Ltd and find out how their many specialist services can help benefit you, then don't hesitate to pick up the phone today.
T +44 (0)121 520 2444
www.accurate-laser.co.uk