Staffordshire-based Thermaset is a leading company in the formulation and manufacture of powder coatings and has one of the country's biggest ranges of stock powders – more than 600 – available for next day delivery across the UK.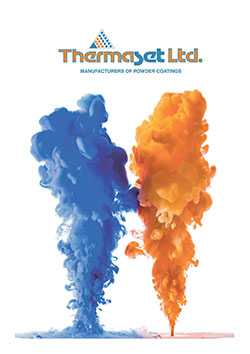 The company, which has recently been awarded the prestigious ISO 14001: 2004 accreditation after placing environmental management at the heart of its business, offers five different types of coating: anti-bacterial, epoxy polyester, epoxy powder, polyester powder and special powder.
It is essential in the pre-treatment process to ensure that the surface to be coated is free from dust, rust, scale and oil.
Thermaset's technical department provides advice on selecting the most suitable product for a given application. There is no colour that can't be matched and no special requirement that can't be met – whether it is BS, RAL, custom or match.
Powder coatings are used extensively in manufacturing and Thermaset's customers include: automotive manufacturers, architects, electrical/electronics, furniture and household goods, general engineering, garden equipment suppliers and sports equipment manufacturers
For further product information, please call Thermaset Ltd on 01827 55777 or email: ben@thermaset.co.uk or visit us at: www.thermaset.co.uk