VREO Innovation, a UK-­based vision systems manufacturer has designed a USB3.0 interface for the established SONY FCB block cameras EV series.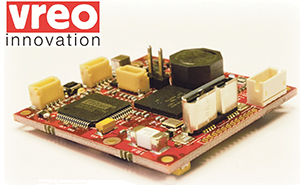 VREO's LIBERTY board extends the range of cameras that can be integrated into USB3.0 products with applications and markets including Video Conferencing, Inspection Systems, UAVs, Robotics, Low Vision and Machine Vision.
The VREO Liberty Board USB3.0 provides a cost effective way to bring USB3.0 into product lines, reducing both time to market and development costs. LIBERTY is capable of streaming 1080p at 30fps over USB3.0 and also includes push button inputs, PWM output for external LED light control and an efficient, selectable power supply for the attached camera. There is also the alternative option to provide camera power via an auxiliary power input connector.
VREO also provide a unique, free Software Development Kit for use with the LIBERTY board, the SDK includes an easy to use application programming interface API and the source code for the OneView viewer program. It currently has solutions for Linux and a range of Microsoft Visual Studio versions. Despite its relatively tiny size, LIBERTY can efficiently stream full HD video without compromise directly into a PC and is fully compatible with VREO's viewer application OneView as well as other UVC programs. LIBERTY is very compact with dimensions of 37mm x 37mm x 12mm, this makes it the smallest solution of its kind.
T 0191 289 3592
M 07811 362460
weech@vreoinnovation.com
www.vreoinnovation.com