Nexen Lift Trucks Ltd has recently launched the latest editions to its premium "X" range series.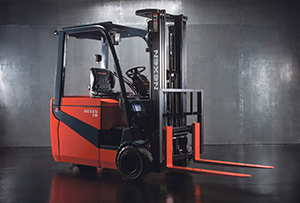 The new FBXT/FBX 3 & 4 wheel electric machines are available in 1,600-2,000kg capacity in both long and short wheel base.
All models offer the very latest technological advancements in the material handling industry. Built to the highest exacting standards utilising premium quality components, which together with the signature Nexen "X" range fully floating cabin design provides exceptional operator comfort with superior ergonomics which dramatically reduces driver fatigue.
The complete range incorporates high capacity DIN-STD batteries for multiple shift operations with fast & easy side entry battery removal. In pre-launch application tests the trucks exceeded all design expectations, for stability, reliability, driver comfort, performance and energy efficiency.
The new electric-powered "X" range series trucks have been designed like all Nexen models with high emphasis on ease of maintenance. They feature class leading accessibility to all serviceable parts, including the complete control panel which is removable in less than 2 minutes. Nexen will be offering an industry unique service exchange programme to ensure any downtime is kept to the absolute minimum. To further enhance accessibility there is an optional fully tilting cabin feature.
For further information about the new Nexen "X" electric series, please visit www.nexenlifttrucks.com or email Info@nexenlifttrucks.com