Bioquell UK Ltd has highlighted the suitability of its state-of-the-art Bioquell Qube aseptic workstation for the rapidly emerging CAR-T and gene and cell therapy sector. The isolator, which can be customised to suit the individual needs of cell therapy development companies, hospitals and service providers, is integrated with the company's innovative Hydrogen Peroxide Vapour technology for rapid bio-decontamination, reduced risk and major cost benefits.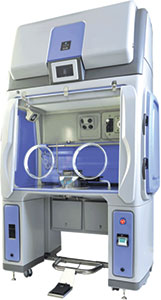 Bioquell's cutting-edge isolator technology is ideal for the critical nature of CAR-T, gene and call therapy, helping to reduce the potential risk of contamination by microorganisms or another patient's cells through product handling and environmental exposure.
With operators able to sit at the Qube workstation, this transformative process can be carried out within a guaranteed safe and productive ISO 5/EU Grade A environment, providing an added level of protection from potentially costly hazardous bio-contamination.
Used with the Qube aseptic workstation, Bioquell's Hydrogen Peroxide Vapour achieves more in less time by starting the decontamination cycle immediately.
It eliminates the need to reach temperature or humidity levels to begin the process with the Hydrogen Peroxide Vapour providing a 6-log sporicidal kill over every exposed surface.
Constructed from tough and hard-wearing polypropylene, the Qube can be installed and validated within 12 weeks with minimal disruption to operation or workflow. It offers customised validated cycles providing ISO 5/EU Grade A environment with GMP compliance and 21-CFR Part 11 software available.
T 01264 835835
www.bioquell.com