Bioquell have completed a 6-log decontamination of the key clinical areas within a newly constructed hospital, Sidra Medicine. This involved a suite of 12 operating theatres, sterile processing unit, paediatric and neonatal intensive care units and other high risk patient areas. Working alongside numerous departments at Sidra Medicine, the project was successfully completed within three weeks.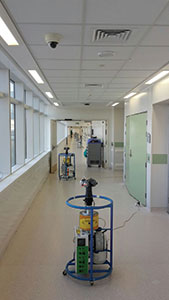 The process was validated with Bioquell's 6-log Geobacillus stearothermophilus biological indicators as well as a third party air sampling procedure. A 6-log reduction was achieved in all areas within the scope with 100% of the independent air sampling results being within the acceptable range.
Bioquell's Rapid Bio-decontamination Service was chosen to establish a degree of sterility as high as practically possible within key areas. The company's scientifically-proven Hydrogen Peroxide Vapour technology was used to offer a scalable solution while maintaining a high efficiency standard.
The entire operating theatre complex was decontaminated within one day using 32 of Bioquell's Hydrogen Peroxide Vapour generators. Distribution fans were used to disperse the vapour within specified zones, whilst Bioquell's aeration units provided the capacity to break down the vapour.
Bioquell's 6-log Geobacillus stearothermophilus spore biological indicators were placed in challenging locations, as well as proprietary Bioquell chemical indicators designed to give a real-time verification of a successful bio-decontamination process.
All areas decontaminated strictly adhered to Bioquell safety protocols, with warning signs placed to prevent entry to the area during the cycle.
T 01264 835835