Delta Rock Group Ltd, one of the North West's leading automation providers, has shown that the company is providing its clients with more by forming another new division.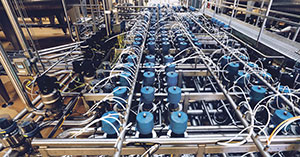 Following the successful addition of the automation division within the existing electrical installation business, September 2018 will see Delta Rock add process and mechanical engineering services to their portfolio.
The move will provide clients with an integrated range of services. Looking at every aspect of a manufacturing plant and ensuring maximum uptime and output safely, Delta Rock's aim is to deliver a more manageable solution for their customers' project and procurement teams.
Scott Davis, Delta Rock Group Managing Director, said, "In recent times, engaging with a single source supplier has become more appealing to companies in industry when procuring for projects. So, at Delta Rock we've tailored our service to offer exactly that. We're certain our customers will appreciate the benefit."
T +44 (0)1244 536444
sales@deltarock.co.uk
www.deltarock.co.uk