KSB has supplied two new Amerex KRT pumps with specially fabricated Duckfoot for Jet Aeration tank at Anglian Water's Southend Water Recycling Centre (WRC)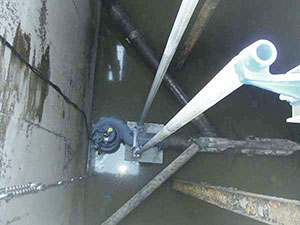 The need for energy savings, improved carbon footprint and lower whole-life costs is becoming an important driver for innovation in Anglian Water. As a result KSB Amarex KRT duty standby pumps were installed in their Jet Aeration tank at the Southend site to replace existing pumps.
KSB Amarex KRT is a vertical, single-stage submersible motor pump in close-coupled design. It is available with various impeller designs and can handle all types of abrasive and aggressive waste water in water & waste water engineering.
Two submersible KSB Amarex KRT pumps were installed at the outlet base of the jet aeration tank, with suction level at the pump at 0.5m, discharging to a 400mm GRP pipe down the centre of the 32m long x 12m wide tank. The KSB Amarex KRT pumps are rated at 370 l/s delivering against a static head of 5.18m and friction head of 0.91m, giving the total developed system head of 6.1m. A 200mm air pipe is mounted above the water pipe and the air/MLSS flow is Jet Aerated through 32 nozzles.
T 01509 231872
www.ksb.co.uk