Award winning brand, Goodlight, have announced that Middlesex Aerospace, a leader and strategic manufacturer of aerospace engineering components has made between 50-80% energy savings following the replacement of their old fluorescent lighting with energy efficient, low maintenance LED tube lighting from the Goodlight range. Payback on the installation is on target and expected to be achieved within 18 months. The company adopted Goodlight LED lighting to meet their commitment towards ISO14001.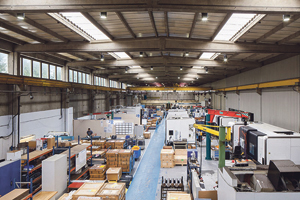 Installation of the LED lights was carried out over the weekends to limit the impact on production times and reduce disruption for staff. Middlesex Aerospace specified Goodlight GX1 Plus (150W) LED High Bays, G5 LED Battens, T8 LED Tubes and LED Ceiling Panels for their main production factory and inspection area at the 50,000 sq ft manufacturing site in Hampshire, replacing energy hungry fluorescent lighting.
Goodlight LED lighting technology offers more efficient light at lower cost and reaches full brightness instantly with no warm-up required. The lights are specifically designed for retrofit applications and can be quickly and easily installed into existing fixtures. They provide immediate energy savings and are virtually maintenance free. Goodlight LED products are guaranteed for five years and rated at 50,000 hours.
T +44 (0)1276 691230
www.goodlight.co.uk