A new app being used by drivers to carry out and digitally record daily vehicle safety checks has transformed the effectiveness of Lanes Utilities' wastewater fleet management.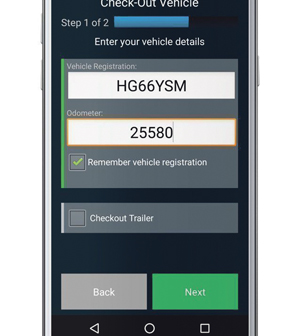 The Vehicle Check-Out app allows drivers to complete the mandatory checks quickly and effectively, and report defects in a way that is fully compliant with latest vehicle inspection legislation.
Lanes Utilities, part of Lanes Group plc, is using the app to manage 350 specialist vehicles operated to fulfil its role as Thames Water's wastewater network services maintenance partner.
Vehicle-Check is the latest element of Lanes Utilities' award-winning FieldViewer operational management system, developed with its digital systems partner Techfinity.
It takes drivers step-by-step through the daily vehicle checks they must make before taking a vehicle onto the road. Defects can be logged and reported in real-time to a central management system through a hierarchy of responsible fleet and people managers.
A minimum amount of time is allocated for each check. If drivers attempt to do them too quickly, they are required to repeat the checks. When completed, the app informs the driver if the vehicle is safe to drive, and gives further safety guidance based on the condition of the vehicle. If it is not road-compliant, the driver is told not to use it.
T 0800 526 488
sales@lanesgroup.co.uk
www.lanesfordrains.co.uk