For many years the experts in welding shielding gas, Air Products, have been producing the Welder's Handbook.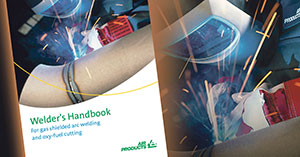 The Welder's Handbook is a comprehensive, industry standard guide for gas shielded arc welding and oxy-fuel cutting.
Air Products has just published the latest edition of the Welder's Handbook which succinctly provides an array of information including principles of different welding, operations, positions, equipment and useful data for set-up and safe operating practices. New for 2018 is a downloadable e-book format in addition to the traditional printed copy – don't miss out!
Air Products is a world-leading industrial gases company in operation for over 75 years. The company's core industrial gases business provides atmospheric and process gases and related equipment to manufacturing markets.
The company had fiscal 2017 sales of $8.2 billion from continuing operations in 50 countries and has a current market capitalisation of approximately $30 billion. Approximately 15,000 passionate, talented and committed employees from a diversity of backgrounds are driven by Air Products' higher purpose to create innovative solutions that benefit the environment, enhance sustainability and address the challenges facing customers, communities and the world.
T 0800 389 0202
www.airproducts.co.uk/microsites/welders-handbook.aspx