Weldability-Sif, the UK based 'one stop source' for all welding products, has introduced the new SifWeld TS200AC, a professional microprocessor-controlled inverter welding power source for AC TIG, DC TIG and MMA applications.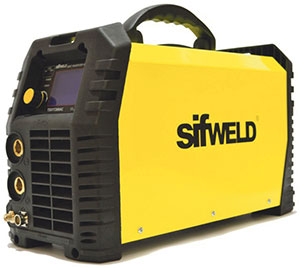 The SifWeld TS200DC's use of IGBT technology means that it is feature rich while remaining compact and lightweight. It incorporates a user-friendly LCD control panel with logical layout for operation in MMA or TIG modes, and is suitable for AC MMA, DC+ MMA, DC- MMA, DC TIG and AC TIG welding.
The TS200AC's high frequency ignition and pulse function in both AD and DC mode make it ideal for sheet metal and fine precision work & it is suitable for use in industries including general fabrication, sheet metal work, stainless steel fabrication, process engineering & repair and maintenance.
Weldability-Sif is a multi-million pound company that supplies MIG, TIG, MMA, Spot and Oxy/Fuel welding and Plasma cutting machines, torches, accessories, consumables and personal protective equipment to both the UK distributor market and exporting to a number of countries across the globe. The company's Letchworth Garden City facility enables distributors to single source over 7,000 different products and the company to maintain their stock to high volume consumables including the distribution of over 8,000 tonnes of MIG welding wires per annum to the UK market.
T 01462 482200
steve@weldability-sif.com
www.weldability-sif.com