Wastewater treatment systems and solutions experts Jacopa have won a contract to provide six of their robust packaged CB750 Copa SAF-Hire treatment units.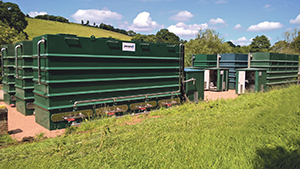 The units will be on hire for 26 weeks providing temporary treatment during a planned filter bed refurbishment at Wessex Water's Bruton wastewater treatment works.
Bruton is a small farming town in Somerset, situated on the river Brue around 11km southeast of Shepton Mallet and with a population of under 3,000.
Capable of achieving less than 1.0mg/l Ammonia in just a few weeks from start-up, Jacopa's SAF-Hire is a strategic option increasingly popular for utilities requiring short-term wastewater treatment solutions.
Jacopa Managing Director, Alex Lloyd, said, "We are delighted to be able to provide our proven and highly-popular Copa SAF systems for Wessex Water's Bruton treatment works. These robust and reliable units are ideal where customers need a treatment solution that has an immediate effect on BOD. The SAF provides great flexibility as either a permanent or temporary solution, and is ideal for hire where a final treatment solution is being determined."
Jacopa are able to deliver a comprehensive 'turnkey' service including delivery, collection, offloading and loading, commissioning and decommissioning of the equipment. The Jacopa SAFs, which are virtually 'plug and play', are supplied with a walk-in kiosk housing 5.5 kW duty/standby blowers and control equipment.
The CB750 unit achieves 31.5kg/day BOD removal and with a final effluent quality at the 95 percentile of 20mg/l BOD and 30mg/l suspended solids. For combined BOD and ammonia treatment, the units can remove up to 13kg/day BOD and 2.5kg/day ammonia, achieving a final effluent quality at the 95 percentile of 20mg/l BOD, 30mg/l suspended solids and 5mg/l ammonia.