It's big, it's bright pink – and it's 25 years since the company that has become Britain's biggest independent drainage specialist was launched.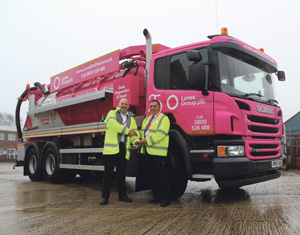 Lanes Group plc is celebrating its first quarter of a Century of unblocking Britain's sewers by sending out two specially liveried new jet vac tankers onto the nation's roads.
Dodgy drains and sewers can be a problem that gets hidden beneath our feet, but there is no chance of these advanced drain cleaning vehicles ever being missed.
The first of the two powerful JHL FlexLine jet vac tankers, complete with the 25th anniversary livery in Lanes' eye-catching bright pink colouring, is going to the Lanes depot in Preston.
Ed Glenn, Lanes Operations Manager for the North West, pictured left, handed over the keys to Lanes Preston Operations Manager Simon Nickalls, at the company's HQ offices in Eccles, Greater Manchester.
Michelle Ringland, Lanes Head of Marketing, said, "2017 has marked our 25th year in business, so we wanted to celebrate in a way that brings a bit of brightness into people's lives."
Simon Nickalls has worked at Lanes for 13 years, joining as an HGV driver. He said, "If feels like we've had an early Christmas present. Lanes has grown and developed massively, and it's helped me grow my career at the same time.
"By my reckoning, there's a big percentage of drainage professionals who've worked at Lanes during their career, and benefited from the skills learned from the business.
"That's why I'm proud that we've been chosen to get one of the 25th anniversary vehicles. It's going to help us continue to deliver great service to our customers, and raise our profile across Lancashire. You can't miss a big pink jetting machine!"
The second anniversary jet tanker will be delivered to the Lanes East London depot at Rainham, Essex, in the New Year.
Allan Earnshaw bought Lanes for Drains from John Lane in 1992. It had one depot, Leeds, West Yorkshire, and 15 employees.
Now, Lanes Group operates more than 30 depots in the UK and Ireland, along with eight utility hubs, employs more than 2,000 people, and has a turnover approaching £200 million.
Lanes has wastewater network service maintenance contracts with Thames Water, Severn Trent, Anglian Water, and Scottish Water, and major drainage and asset maintenance contracts with Transport for London for London Underground. It is also one of the UK's leading sewer lining and rehabilitation specialists.
In recent years, Lanes has won multiple national awards for innovation, safety, and service excellence. During 2017, it retained its RoSPA Gold Medal for occupational health and safety, won two Construction News Awards, and a UKSTT Award for no dig excellence.
T 0800 526 488
www.lanesfordrains.co.uk