CTA Ltd are excited to announce the launch of our New Generation 10:1 Ratio Structural Bonding Adhesives! After officially launching at The FAST Show last month in May, we're now offering trial kits of these new products, so that you can see the difference for yourself.
Welcome to the future of adhesives!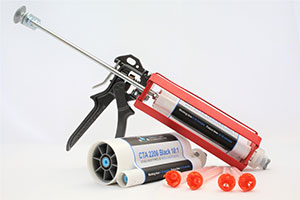 Our New Generation structural adhesives 2202, 2206 & 2203NF are purpose-built for applications intended for the powder coating process. The products in this range share common attributes, but differ in functional cure-speeds, allowing good application diversity from the same core chemistry.
Here is a brief overview of each product, what it does and what it can be used for:
Structural Adhesives 2202 and 2206
New Generation adhesives 2202 and 2206 offer high functional shear strength after the initial cure, which then further increases following an additional heat process. This unique chemistry allows these grades to not only maintain a high functional strength through the powder coating process, but actually improve all aspects of functional strength performance.
These adhesives are capable of:
Bonding stainless and aluminium letters and signs.
Bonding mild steel
Bonding aluminium, mild steel straps on structural sheet work.
Sealing weld seams.
Structural Adhesives 2203 and 2203NF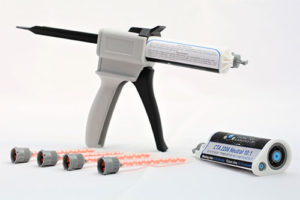 2203 provides a very tough and flexible bond, with high peel, fatigue and impact strength, at both low and high temperatures. Formulated from our innovative and bespoke blend of low-odour and non-carcinogenic monomers, this grade is also a great example of our progress with responsible chemistry.
2203NF is non-flammable and represents a new level of performance; a low shrinkage, high elongation structural methacrylate adhesive.
This adhesive is capable of:
Bonding fasteners to GRP and FRP moulded parts.
Bonding and laminating composite panels.
Bonding locators to ACM without rad-through or witness marks.
Bonding mild steel frames to FRP and offering high vibration and impact resistance.
This product is ideal for use with composite and metal fabrication for seating construction.
Technical Information on Two Part Adhesives
Our New Generation range is made with methyl methacrylate, the methyl ester of methacrylate acid. Methacrylate adhesives are supplied in a two part system that, when mixed, offer a controlled cure speed suited to the application. The cured adhesive can offer incredibly high tensile, shear and peel strength, whilst also resisting impact loads at both elevated and subzero temperatures.
2202 has a 2-4 minute open time and a fixture time of 4-6 minutes.
2206 has a 6-10 minute open time and a fixture time of 12-15 minutes.
2203NF has an open time of 3-4 minutes and a fixture time of 7-10 minutes.
For more information about how to apply our New Generation adhesives and for more information on application best practices, visit our website.
Trial Kits are available
Our New Generation adhesives are available in 50ml trial kits and 490ml 10:1 ratio cartridges, for use with manual or pneumatic applicator guns and nozzles. If a larger volume is required, we are able to supply 20 litre pails and 200 litre drums, which also require bulk dispensing units.
More Information
Two part structural adhesive 2202, 2206 and 2203NF are unrivalled in terms of convenience and mechanical strength. They can be used to bond aluminium, stainless steel, mild steel, UPVC, Polyesters, granite, marble… to name just a few compatible substrates.
To learn more about these innovative adhesive solutions, visit the product pages on our website or contact us directly to speak to our friendly and knowledgeable team about your adhesives requirements.
CTA Ltd
https://ctaltd.co.uk