Presenting a new grip concept for compact angle grinders, FEIN has launched ErgoGrip, an extended handle that is said to provide users with greater comfort, better safety and the ability to work continuously for longer.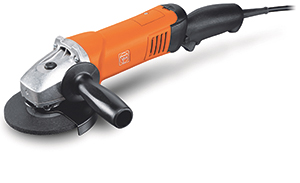 Moulded to shape the user's hand, the ErgoGrip handle is suitable for grinding and cutting applications where users will be working for extended periods of time.
The FEIN ErgoGrip models allow the user to grip the tool from the rear. All the force can then be efficiently applied in the direction of the work. The ergonomic handle also allows greater control and manoeuvrability, even when wearing thick welder's gloves.
By moving the user's hand to the rear of the tool and away from the cutting blade, angle grinders with FEIN's ErgoGrip are designed to be safer to use than standard models. FEIN ErgoGrip models are available across all three of its compact angle grinder ranges.
T 01327 308730