Arithmetica has created a fully interactive virtual reality simulation of a hazardous working environment using a SphereVision 360 degree video recording and production system.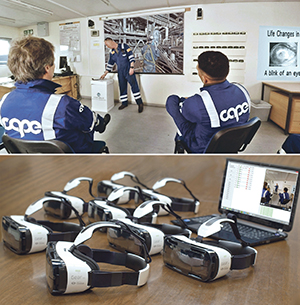 Designed to support health and safety training at Cape plc, an international leader in the provision of critical industrial services to the energy and natural resources sectors, the immersive training presentation is intended to improve hazard awareness, increase perception of risk and support decision making.
The Spherevision system includes 360 degree video of a coal-fired power station with commentary from Cape, and is delivered using specially developed Spherevision presenter software (app) for controlling multiple Samsung Gear VR headsets.
"When people are working in the same environment for long periods of time, their perception of risk can be lowered," Marc Allert, risk coach at Cape, said. "Working with Arithmetica, we have been able to revolutionise our health and safety training. The use of 360 degree imagery of a real working environment presented using Virtual Reality technology is having a genuine impact on trainees throughout the organisation."
T 020 8783 1972
www.arithmetica.com