Annandale Distillery asked Springetts to create a brand and look for two expressions of a new make spirit (NMS) – Rascally Liquor.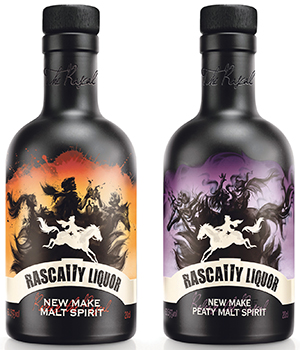 NMS is the young spirit, which, after maturation, becomes Scottish whisky so the task was to create a desirable and distinctive brand, not just an inferior rough precursor to single malt Scotch whisky.
The NMS product is immature and unsophisticated. Its character is outgoing, adventurous and a bit of a rogue, so the idea of 'releasing the rascal within' was developed. The consumer lets out the rascal of the bottle and from within themselves when they taste the product.
Our chosen name – Rascally Liquor – clearly reflects the nature of the product, and alludes to a comment made by the poet, Robert Burns, who has strong links with Annandale, about Lowland Scotch whisky.
The character Tam o' Shanter, from the Burns poem, inspires the bottle imagery. The design uses the bridge that he has to cross to create the branding and the double L in 'rascally' forms the bridge's keystone. The shape of Tam riding his horse gives a distinctive icon for the brand that can be adapted to convey the different character of the two variants. This not only shows the shape of the rider and horse, it also reveals different aspects of Tam o' Shanter and the character of the two types of raw spirit – the rascal inside.
T +44 (0)20 7486 7527
brendan@springetts.co.uk
www.springetts.co.uk