SMB Bearings launch ceramic bearings for extreme applications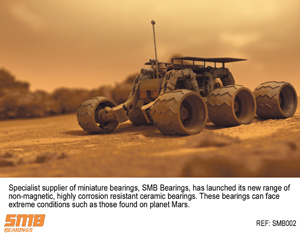 Specialist supplier of miniature bearings, SMB Bearings, has launched its new range of non-magnetic, highly corrosion resistant ceramic bearings. These bearings can face extreme conditions at either ends of the temperature spectrum.
These full ceramic bearings, not to be confused with hybrid ceramic bearings, can be made from Zirconium Dioxide (ZrO2) or Silicon Nitride (Si3N4) and can perform in temperatures ranging from -200 degrees Celsius to 800 degrees Celsius.
SMB Bearings' ceramic bearings are available as full complement (no cage) or with a cage made from PEEK or PTFE. The company also provide a bespoke relubrication service to maintain bearings throughout their use.
More information about SMB Bearings' full ceramic bearing range can be found on the company's website. Alternatively, if you would like to speak to one of the technical experts at SMB Bearings, you can contact the company's base in Oxfordshire on +44 (0) 1993 842 555.