ORBIS® Corporation, an international manufacturer of sustainable reusable packaging and an expert in supply chain optimization, is launching a new foldable container (FLC) for use in the European market.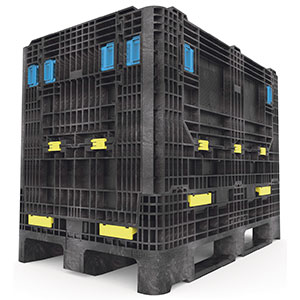 Designed to European dimensions and produced in Europe, the 1,200mm x 800mm GitterPak™ holds up to 900 kg and is a reliable substitute for metal gitterboxes. As part of the ORBIS line of FLCs, the GitterPak (Model HDB1208) offers logistics advantages, warehouse cost-savings and an environmentally friendly alternative to steel tubs, wood pallets and crates.
The GitterPak stacks securely when full and folds when empty for return trips, allowing for more containers per truck when compared with fixed-wall gitterboxes. With its all-plastic design, it features a tare weight less than metal bins, so trucks will efficiently cube out before weighing out because of heavy packaging.
Its 1,200mm x 800mm x 960mm footprint makes it ideal for sequencing parts, as well as right-sizing part shipments for line-side assembly and work-in-process operations. The GitterPak was designed to better protect and transport parts in global automotive and industrial applications by eliminating the need for steel stillages, gitterboxes or wooden crates commonly found in 3-tier packaging systems.
The GitterPak is engineered as a strong and durable container for heavy weight loads requiring increased packaging protection, while optimizing pack density.
Visit: www.orbiscorporation.de for more information.