Limbs & Things is a medical simulation company that manufactures artificial body parts for use in clinical and surgical skills training.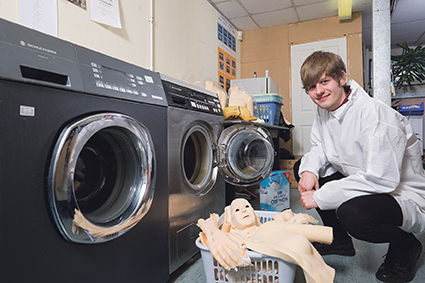 The manufacturing process involves the use of various chemicals, and when the latex material comes out of the ovens it has a very strong and unpleasant smell.
In order to get rid of the smell, and also to improve the colour of the finished items, they are washed, using ordinary washing powder, in a machine supplied by Armstrong Commercial Laundry Systems. The machine, which the company bought in 2013, is a Schulthess 7kg washer-extractor and, according to Mark Brown, Manufacturing Maintenance Engineer at Limbs & Things, who works in the engineering department, is in use every day, often three times a day. "The material is poured into the moulds, goes into the ovens and from there the production line operators put it straight to the washing machine to get rid of the smell", he told us.
Mark has been very pleased with the machine. "It is reliable and easy to use and does exactly the job we want it to", he said. "A very good buy!"
T 01635 263410
enquiries@armstrong-laundry.co.uk
www.armstrong-laundry.co.uk