Innovation is a word often over used with industry that generally sees the inclusion of increasingly more complicated electronic systems.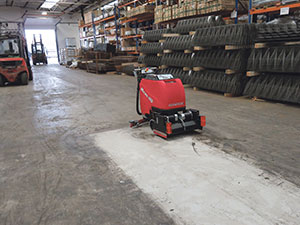 Most of us can relate to the costly repairs and downtime associated with these.
Factory Cat adopts a different approach and takes great pains to design out non-essential items, focusing instead on heavy duty motors and actuators that provide an industrial level of cleaning performance. We can provide individually tailored packages from machine configuration through to servicing requirements that match the individual needs of the application.
It's this approach that allows us to work closely with FM companies and contract cleaners in delivering practical solutions to their clients, which deliver both in performance and cost.
Our hire fleet is available in both short term and contract hire that enables us to adopt a flexible approach to our customers' needs, from standard cleaning requirements to full Diamond polishing spec machines for restoration work.
Site surveys and demonstrations are provided free of charge and can be booked by calling our team on 0800 313 4336. The full range can be viewed on our website at: www.factorycat-uk.co.uk